Anthony E. Moon Sr.
|
Senior Pastor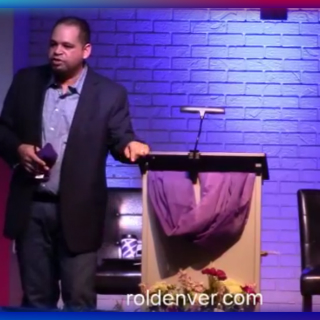 Pastor Anthony E. Moon Sr.

Just the Facts...

Fact: Pastor Anthony is the 3rd child of Pastor Norman E. & Deborah Moon.

Fact: Anthony has been married for over 13 years to Helen Baker-Moon.
(He jokes - he was not good enough for her to drop her maiden name)

Fact: Anthony is the proud father of Ty and Aj Moon.
(He laughs... Especially when they act right)

Fact: Anthony knew from a young age he was called to preach the Gospel of Jesus Christ.
(He recalls walking around with a tape recorder preaching his dad's messages - with his own twist. I guess some things never change - he laughs)
Fact: Anthony decided by the age of 14, he no longer wanted to become a pastor. Why you might ask: He said, seeing what his parents went through in ministry scared him. However, he went on to say, God never removed the calling from his life despite his personal mistakes and struggles in his early adult years.
(He smiles as he says... my father never really wanted his kids to be preachers, but at the end of his life he told me, he knew the calling on my life was real and he was blessed/proud to see me complete the lic. process)

Fact: Pastor Anthony and Helen were asked by Pastor Norman & Deborah to include the fellowship to step in and lead ROL when Pastor Moon became too ill to minister in late Oct. of 2017.
(They had previously been given Pastor N. Moon's blessing to start their own ministry in 2018)

Fact: Anthony & Helen were appointed Senior Pastor and First Lady of ROL in May of 2018, following the passing of his father.
(He jokes - so much for moving to Las Vegas and getting out of the cold)

Fact: Anthony says he knew they (his family) were called to continue with his father's legacy at ROL when Pastor N. Moon (despite his health) delivered what would be his final message in Jan of 2018. He said his father was so happy and so proud of all the changes that were taking place at his church. It was at this time Pastor N. Moon told his son - DON'T STOP! God has big things in store for you and this house!
(Pastor Anthony wipes away tears...)

Fact: Anthony worked in the Telecommunications Industry as a Corporate Senior Field Operations Analyst
(Pastor Notes: Not bad for a kid who struggled and learned differently as other kids.)

Fact: Pastor Anthony has had about a dozen operations mainly on his back and Thoracic region. He continues to battle these health challenges...
(He notes: God isn't (is not) through with me yet. The battle belongs to God and without doubt victory is mine. He starts to sing: Victory, Victory shall be mine, if I hold my peace and let the Lord fight my battles...)
Unlike his father, Pastor Anthony can't sing!

Fact: Anthony started playing drums around the age of 7 and by the age of 9 started playing with the church worship team.
(He laughs - I recall one Sunday at the age of 8, running off the platform because I couldn't keep the beat and my father kept looking at me to get it together. I must admit - there are still some Sunday's, I think about running... Just joking, well kind of! But in all truth - some of my best memories are playing with my father and the worship team. The drums have been good to me... I also saw my wife for the first time while playing. I must admit - I lost the beat and yes my father looked back at me. 14 plus years later and I still lose the beat when she walks in the room.)

Favorite Verse: Romans 8:11: 11 But if the Spirit of Him who raised Jesus from the dead dwells in you, He who raised Christ from the dead will also give life to your mortal bodies through His Spirit who dwells in you.
(Pastor Anthony notes: That sums it up for me... The same SPIRIT that raised Christ from the dead will also give us life!!! No matter what is taking place in your life there is HOPE through Christ! Stop living like you're dying... There is more to your life story; God has more in store for you!
I feel like preaching... you got 30min)

What should people anticipate from an ROL service: I say it each week... ROL is not a perfect church! Why? Because, we are a group of people who have not lived perfect lives. We are a group of people who just love GOD and want others to receive what we have received; forgiveness through what Christ did on Calvary's cross. We believe folk will leave our church "house" better than they walked in because they are filled with hope that Jesus loves them. The church is a "house" where people of all backgrounds and issues can get help without condemnation. We want to build people up through Jesus and not tear them down due to their life before they became believers in Jesus. To add: the worship is just amazing, the fellowship of friendly people is second to none and the word is full of hope for a new day in Christ.
< Back